Past Event - The Friday Toast
In lieu of the Whistler Wine Walk, we give you 'The Friday Toast'. A chance to take a couple of minutes, with your favourite beverage, and enjoy a brief written Q&A with our gallery artists. Shared on Instagram, every Friday evening in October, let's toast to art!
Christina Clarke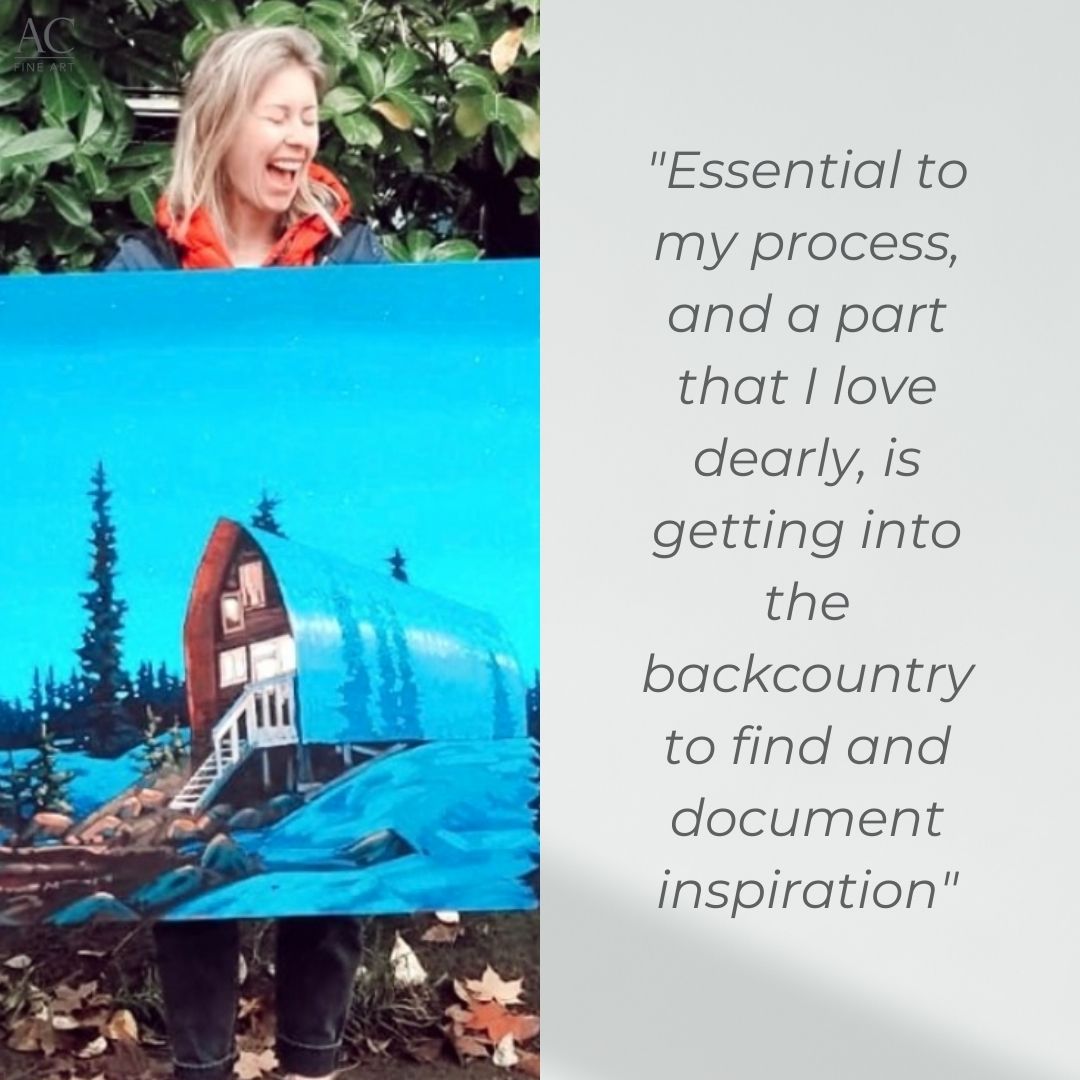 For our first installment of Adele Campbell's 'The Friday Toast' we chatted with new gallery artist, Christina Clarke, about her painting 'Fade Away to Quiet'. Grab a glass of your favourite Friday night beverage and enjoy a short Q&A below.

Q: What will you be toasting this evening?
A: "Fall, family, and friends! Also, sharing this painting and some anecdotes with all of you!"

Q: What drives you to keep creating?
A: "I'm not sure I fully know. I've been painting as long as I can remember. I think there's a part of me that is restless. Restless to be a better painter. To more accurately translate a feeling through paint and canvas. To recreate the infinite ways that light changes the mood or feeling of a landscape. Also, I just really like making art that people love and connect with."
Q: How have your first few months at Adele Campbell been?
A: "It's been such a pleasure. The team at Adele Campbell is energetic, creative, knowledgeable, and professional. They are an absolute delight to work with. Likewise, the response from collectors has been wonderful and my initial small collection sold very quickly. It's a great fit as many of my subjects are drawn from the Sea-to-Sky region and I'm excited to share more over the coming months!"

Q: Part of your creative process that you love / or part that you struggle with?
A: "Essential to my process, and a part that I love dearly, is getting into the backcountry to find and document inspiration. I find being outside gives me so much more information. Things like time of day, season, temperature, humidity, etc. They all impart a feeling or story that I try to capture. The thing I struggle with is, of course, getting into the backcountry to find and document inspiration now that I have a rather sizeable and growing two year old."

Q: One word to describe this piece?
A: "Stillness."

Q: A brief story about this piece?
A: "A few years ago, I went on a late fall camping trip to Semaphore Lakes. With a forecast of heavy rain, sensible campers had stayed home and it was remarkably quiet. I remember being disappointed that I wouldn't be able to photograph the surrounding mountains that were concealed by thick fog. Nevertheless, my camera is heavy so I had to make use of it. I recalibrated, photographing what was nearby including subalpine trees and tarns as the rest of the landscape faded away to white and grey.
I've come back to paint from these photos often. Revisiting them reminds me to find value and appreciation in the things that are right in front of me. I'm reminded of how quiet and peaceful it felt to stand there, motionless, letting the things I couldn't see or know fade away."

Q: Do you have another creative outlet?
A: "Painting is my number one with sketching and photography usually in service of the process. All the rest of my time is far more than accounted for with family, friends, running two businesses, and getting outside to play with bikes, skies, and tents."
Janice Robertson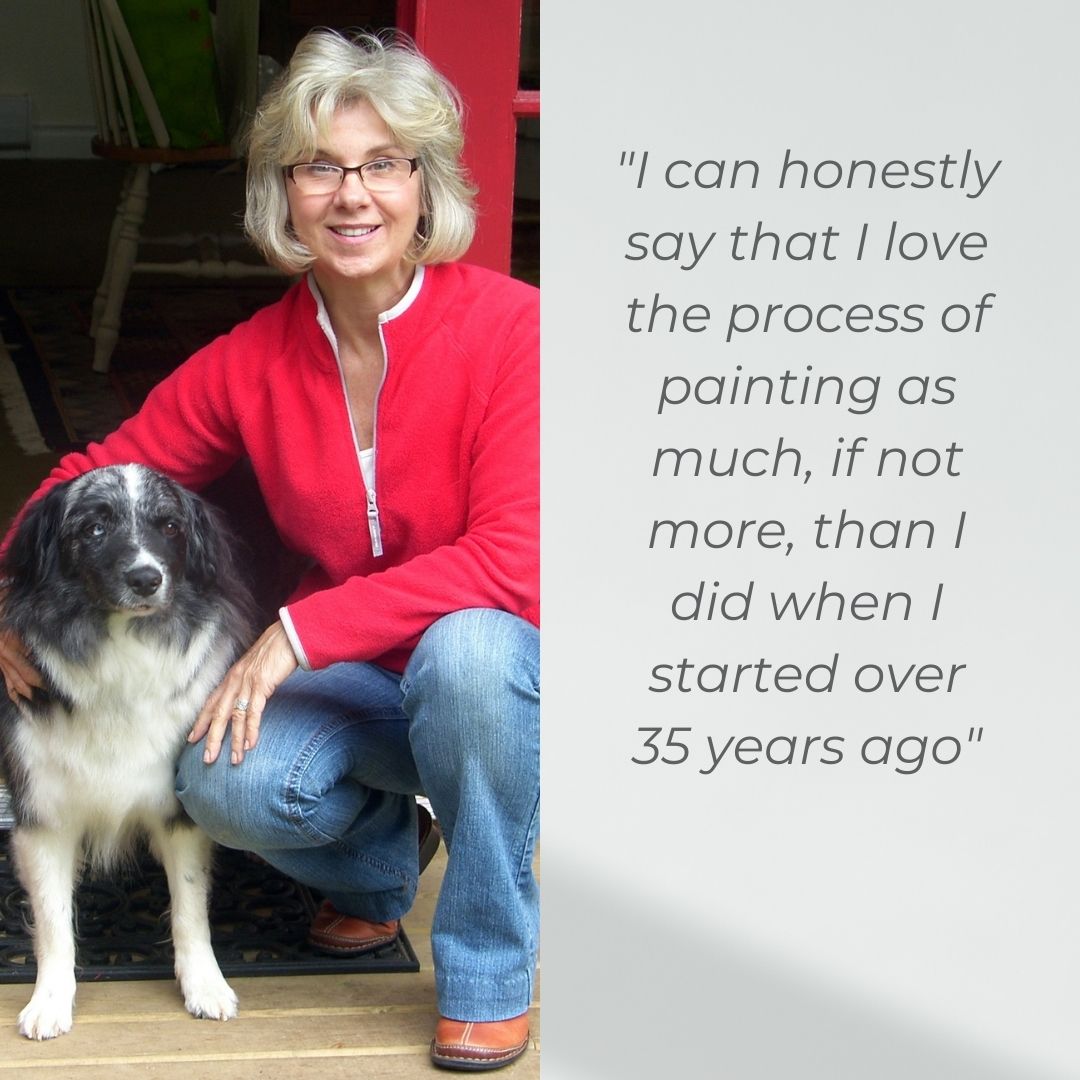 The Friday Toast this week features gallery artist, Janice Robertson:

Q: What will you be toasting with this evening?
A: Tonight, I will be toasting with a glass of Prosecco and talking about one of my favourite new paintings, "Hearts Afloat".

Q: A brief description of this painting or story behind this painting?
A: The painting was done from a photo that I took of Alta Lake on a visit to Whistler a couple of years ago. I didn't initially see potential in the image as it was kind of empty- no sculptural trees or colourful water lily blooms. Then when browsing through my pictures to find a new image to paint, the image just struck me. I noticed the mystery of the dark areas, the reflected light on the grasses and the glass-like quality of the transparent water.

Q: One word to describe this painting?
If there's one word I would choose to describe the painting it would be 'tranquil'.

Q: What drives you to keep creating?
A: The thing that drives me to keep creating is a powerful urge to make something beautiful. I can honestly say that I love the process of painting as much, if not more, than I did when I started over 35 years ago. I am very blessed to be able to keep doing it.
Dana Irving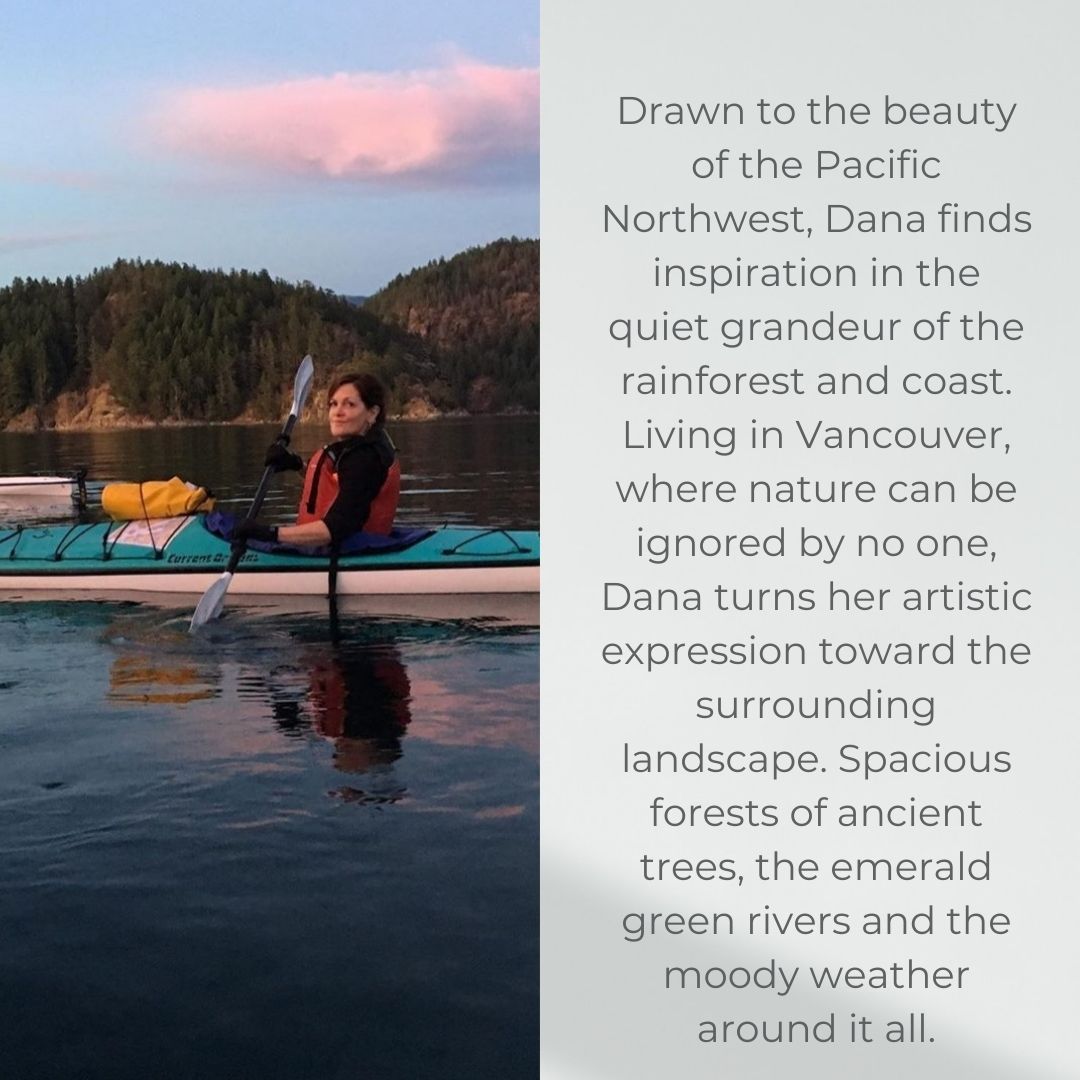 It's Friday! This week we chat with Dana Irving for The Friday Toast.

Q: One word to describe this piece?
A: This piece is titled "Nestled In". 40 x 60 inches. One word description - dramatic.

Q: The story behind this painting?
A: It was commissioned by a family of five who wished to be represented as trees on the island in the middle ground. In this case, the client and I share a great affection for Desolation Sound, one of the most beautiful places on the west coast. It was a pleasure to work their "portrait" request into it.

Q: Part of your creative process that you love/or part that you struggle with?
A: I find the design process is always the most difficult. Especially in a commissioned piece because the client has input as well. Lots of erasing and starting over involved. Once I have a good drawing, the painting is the fun part!

Q: What drives you to keep creating?
A: What drives me to be creative? At this point in my life, it is innate. But I must say, it is such a privilege to do something you love for a living that I can't imagine not taking advantage of the opportunity. I paint almost every day.

Q: An area/subject/technique that you would like to try?
A: Another style I would like to explore would be very abstract, wet on wet oil painting. It's on my list.

Q: Do you have another creative outlet?
A: My other creative outlets are music (singing, playing guitar and ukulele) and ballroom dancing.
Laura Harris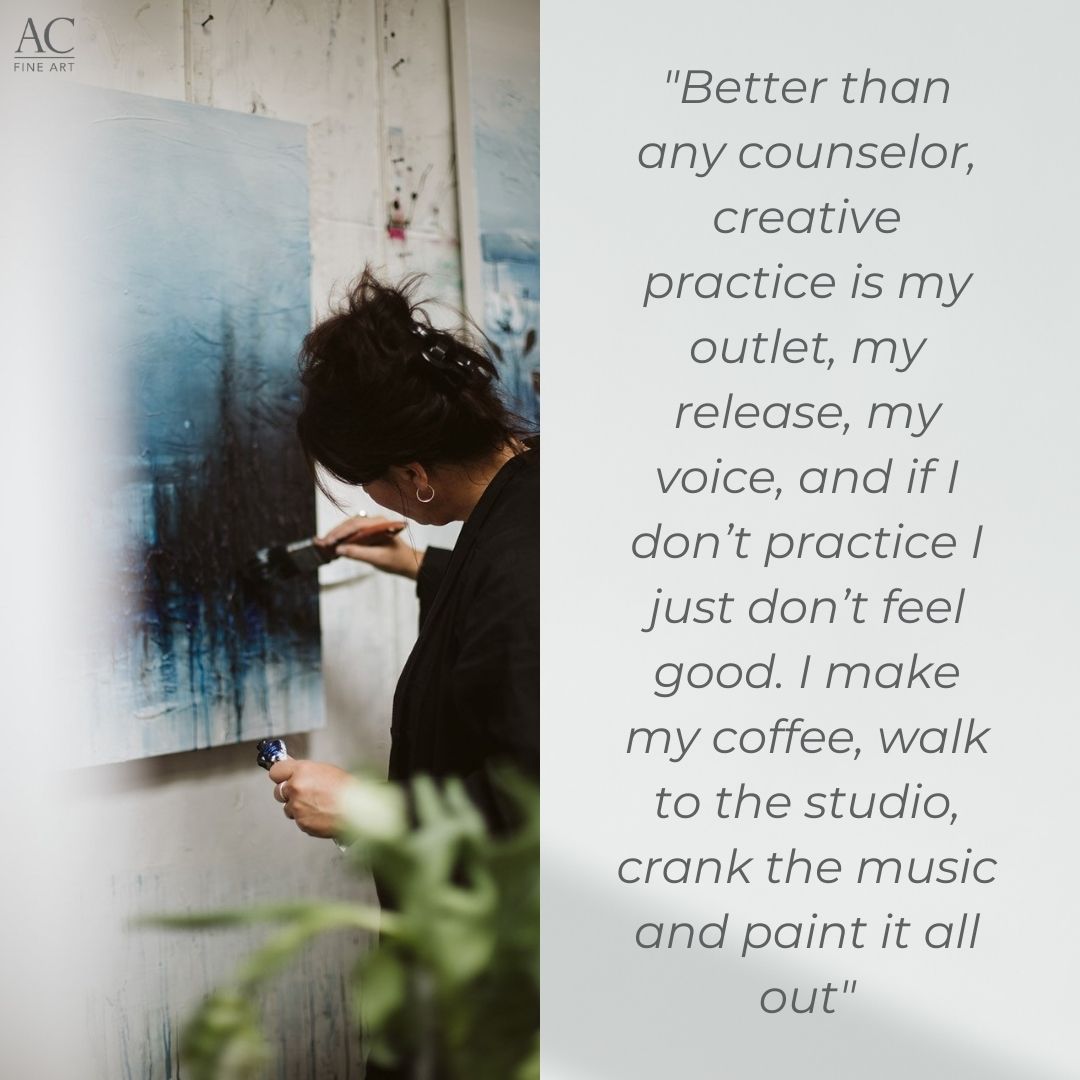 This week we chat to Laura Harris

Q: What will you be toasting with this evening?
A: "Tequila, of course! Those of you who've joined me on one of my retreats understand. "Vitamin T" we call it."

Q: What drives you to keep creating?
A: "After 20 years of full-time painting, creating has become an integral part of my life. Better than any counselor, creative practice is my outlet, my release, my voice, and if I don't practice, I just don't feel good. I make my coffee, walk to the studio, crank the music and paint it all out – everything is right with my world."

Q: Part of your creative process that you love / or part that you struggle with?
A: "I LOVE the beginning of a painting. It's free and joyous, everything is possible there. The end, though sometimes hard to find, is absolutely exhilarating and satisfying. The middle can be bit of a slog."

Q: One word to describe this piece?
A: "Escapism."
Q: A brief story about this piece? (could be a description of the process, the subject matter or location, your feelings towards it – whatever you feel like sharing!)
A: "I think we've all been here, especially over the last year or two. I painted what I was craving and what I know is true "Honestly, All I Need is a Weekend in the Mountains" 72x48. And it's big enough you can almost dive in. I love this piece and I'll think of it often. Hope it goes to a good home."

Q: Do you have another creative outlet?
A: "Cooking. I really enjoy setting a relevant and beautiful table, and cooking for dear friends and family. It makes me really happy."

Q: An area/subject/technique that you haven't painting but you would like to?
A: "I'm just getting into watercolour and it feels good. Different, but it's good. We'll see what comes next…"
Susie Cipolla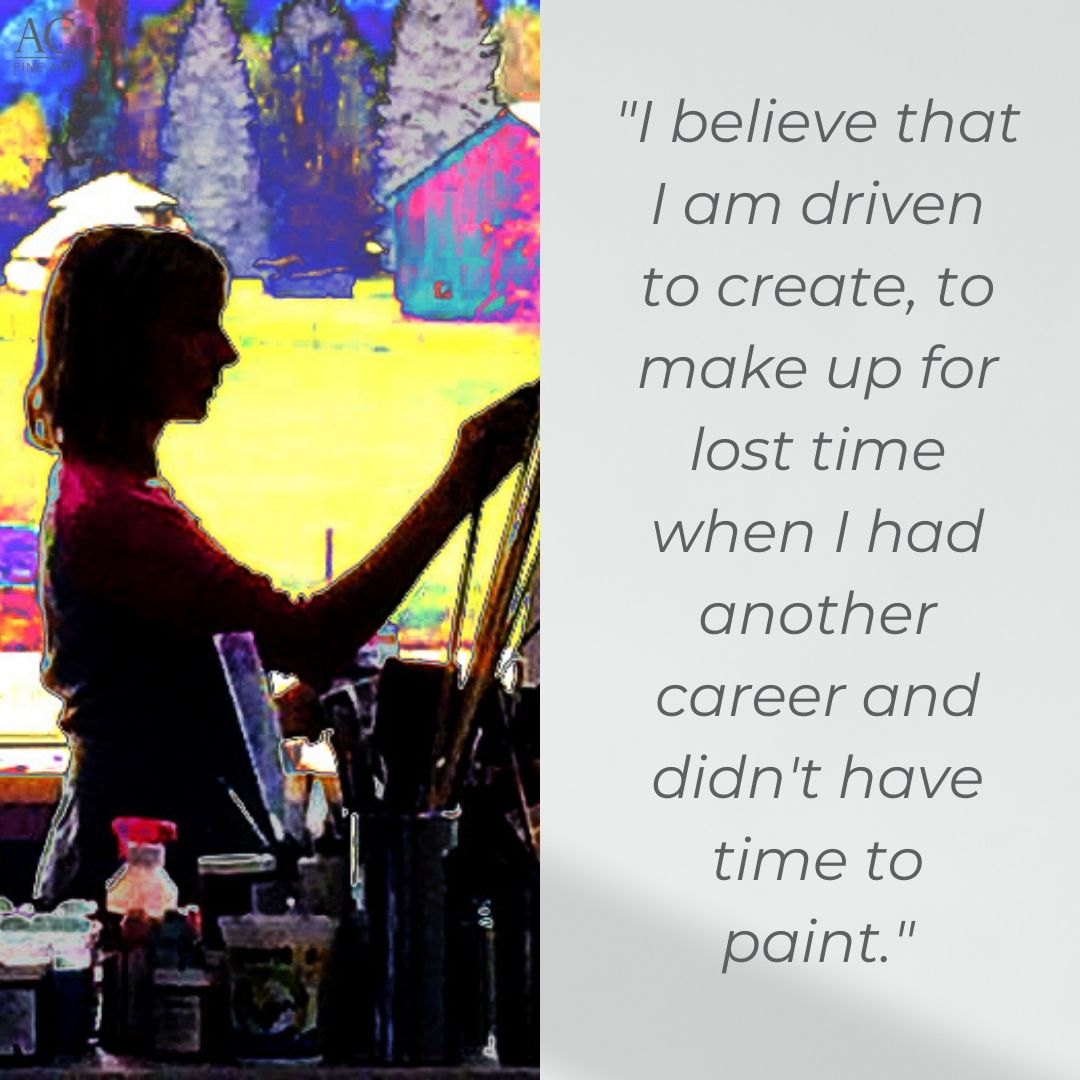 It's the final installment of The Friday Toast, tonight we chat with Susie Cipolla

Q: What will you be toasting this evening?
A: "This evening I will be toasting British Columbia's bears, both black bears and grizzly bears. I recently spent a week at Tweedsmuir Park Lodge as their "artist in residence" and had the opportunity to photograph grizzly bears in their natural habitat. I took over 2000 photos! I am now deleting and editing and deciding which images I will paint from. I often start a series of small (10x10 to 12x16) studies to work out my colour palette and composition before tackling the big paintings.
I have also painted the local black bears as they are often on our property, from spring to fall. They like to graze in our back field at the end of the day. They can be seen throughout the Pemberton Valley. This bear broke into our potato storage barn and had to be shooed out. I took some artistic license and put him in shallow water. He probably did at one time swim across the Lillooet River. The painting is called "Many Rivers to Cross" and is 48x48."

Q: What drives you to keep creating?
A: "I love to create things, to experiment with different subject matter like wildlife, landscapes, cars, and marine scenes. I play with different colours and techniques. Needless to say, many of my experiments don't make it out of the studio and they end up in the burn barrel. I haven't worked with human portraiture as it doesn't interest me much, though that may change one day. I believe that I am driven to create, to make up for lost time when I had another career and didn't have time to paint."
Q: Part of your creative process that you love / or part that you struggle with?
A: "I enjoy the initial block in (first layer of paint) of the painting process. The middle bit, where a lot of problem solving occurs, is the most challenging. The finishing touches are very rewarding."

Q: One word to describe this piece?
A: "Questioning"

Q: A brief story about this piece?
A: "I was 30 or 40 feet away from this bear as my husband was coaxing him out of the barn and across the road into the woods. He didn't want to leave and kept looking back at me as I was taking photos. I have a number of good images that I will use as references for big paintings in the next month or so."

Q: Do you have another creative outlet?
A: "This is my main creative process. I spend so much time doing it, there doesn't seem to be hours in the day for much else other than family and exercise. Oh, I also refinish old windows and turn them into antiqued mirrors. I have a barn full of old dirty windows waiting for a remake and they make great wedding presents."

Q: An area/subject/technique that you haven't painting but you would like to?
A: "I am looking forward to doing some marine scenes as I have some great photos from Squamish and Prince Rupert."